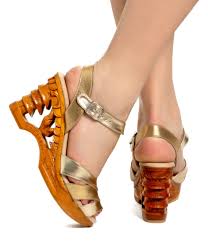 Lucky Lou Pagoda Wedge Shoes - Gold
Regular price $225.00 Sale
3" hand-carved lightweight wood heel.
Soft Red leather toe strap lined with soft Red leather.
The ankle strap is Red leather lined with soft Red leather.

The vamp is padded Red vinyl.
Soft, durable non-skid rubber on the front and back of the shoe to keep you on your feet.

How do they fit?

~This style fits on the small side - we recommend sizing up. For example, if you normally wear a size 9, we suggest sizing up  to a 10, unless you have narrow feet.

~The toe strap is wider back-to-front and side-to-side.  The 3 straps on the toe provide flexibility and support, so it's ideal for gals with a medium-to-wide foot.

~The wood heel is beautifully hand-carved and sturdy, yet the wood itself is surprisingly light-weight.  

~The footbed is cushioned with 3 layers of padding for extra comfort.